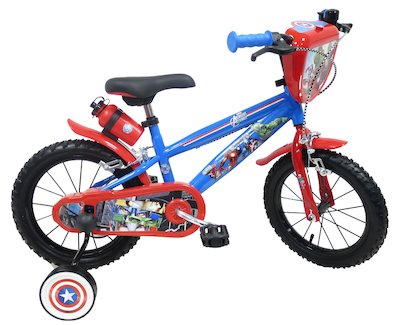 La photo du produit ne peut pas refléter la couleur sélectionnée
MARVEL AVENGERS 14" VTT, PNEUS GONFLABLES
Cadre vélo acier
Fourche acier
Guidon réglable acier
Selle réglable
Roulement Nylon
Pignon roue libre
Jantes et rayons acier
Pneus gonflables
2 Freins caliper
Stabilisateurs larges á boulon de démontage manuel rapide
Garde-boue, garde-chaine, bidon arrière et écusson coordonnés
Age de l'enfant: 4-7 ans
Si vous souhaitez être informé/e par email à peine ce produit est de nouveau disponible, merci d'insérer votre adresse email ici
Nous expédions généralement votre commande à l'entreprise de messagerie dans les 2 jours après réception du paiement. L'entreprise de messagerie livre généralement dans les 5 jours ouvrables. Vous recevrez un numéro de suivi pour voir la progression de votre colis.
Disney Marvel Avengers mountain bike
Customer satisfaction is paramount to us, so if you are not satisfied with your purchase, we want to know before you return it or leave a negative feedback! Please contact Rosetta: 00 39 0171 911383 or better, send her an e-mail: sales@denverbike.com. There are no issues that we cannot solve!