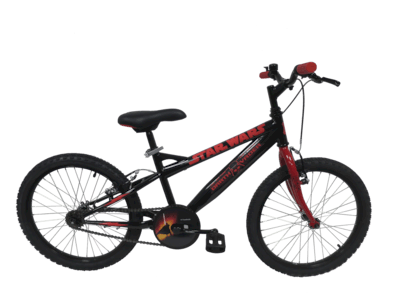 La photo du produit ne peut pas refléter la couleur sélectionnée
DISNEY STAR WARS 20" DARTH VADER VTT, LICEN., OFFICIELLE, MONO VIT.
Cadre 20" VTT acier
Fourche rigide acier
Jantes 20" ALUMINIUM NOIR, moyeux & rayons acier
Gros pneus 20" VTT à crampons
Roue libre mono-vitesse
Freins avant et arrière V-Brakes
License officielle Disney
Si vous souhaitez être informé/e par email à peine ce produit est de nouveau disponible, merci d'insérer votre adresse email ici
Nous expédions généralement votre commande à l'entreprise de messagerie dans les 2 jours après réception du paiement. L'entreprise de messagerie livre généralement dans les 5 jours ouvrables. Vous recevrez un numéro de suivi pour voir la progression de votre colis.
Customer satisfaction is paramount to us, so if you are not satisfied with your purchase, we want to know before you return it or leave a negative feedback! Please contact Rosetta: 00 39 0171 911383 or better, send her an e-mail: sales@denverbike.com. There are no issues that we cannot solve!